Hey, Dancin' Dance family!
On November 30th, through December 3rd our very own Michael Case and Tara Langhorne surprised the large crowds at First Baptist Church of Melbourne's Unto Us Christmas spectacular with a special foxtrot dance during the sing-along of the holiday favorite song, "There's No Place Like Home for the Holidays."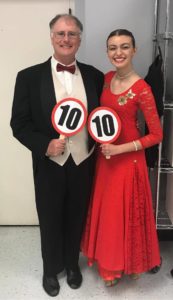 Michael and Tara participated in all four sold-out shows for an estimated 800 total spectators. As part of each performance, Michael and Tara were also "interviewed" by the music pastor, who was conducting the orchestra, and "scored" by the church choir in a hilarious reality dancing show-style moment.
In preparation for the event, Heidi helped with choreographing the routine, and she and Primo both helped with coaching Tara and Michael, readying them for their "big stage" moment.
Thanks to Michael and Tara for four great performances, and to FBC Melbourne for showcasing our students during their amazing shows!